First Harmony is passionate about bringing mindful practice and energy-based treatments into the mainstream. Thank you to the following people for their continuous encouragement and support!
N:B Clients were not paid to endorse First Harmony services.
---
---
Harold Kreis
Head Coach Germany National Team (Ice Hockey)
2023 Silver Medal World Championships
---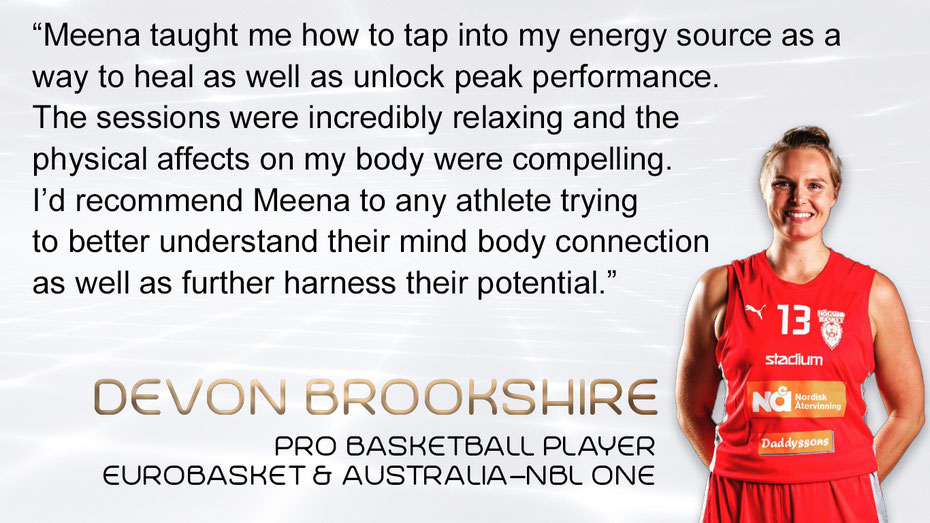 ---
Dustin Stanton
American Football Player
Dallas Cowboys (NFL)
---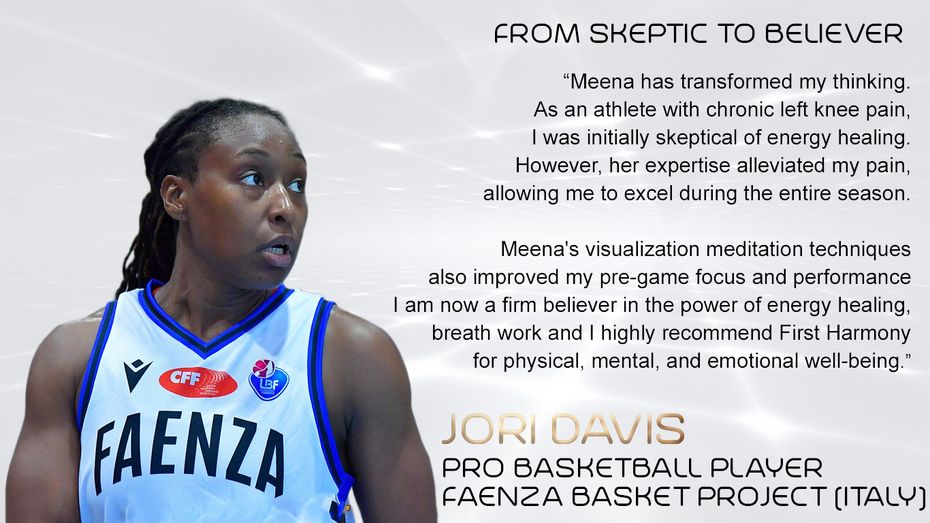 ---
Josh Young
Professional Basketball Player  (Basketball Bundesliga, Germany)
Founder of www.competitionofone.com
---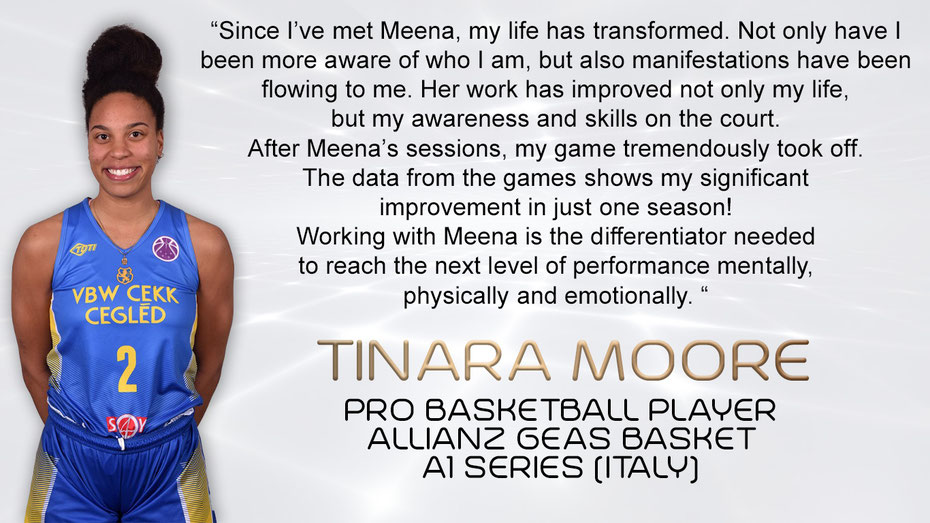 ---
Aleix Gibert Buxeda
Former Football Coach FC Barcelona
Sports Scientist - Mindful Performance Coach
---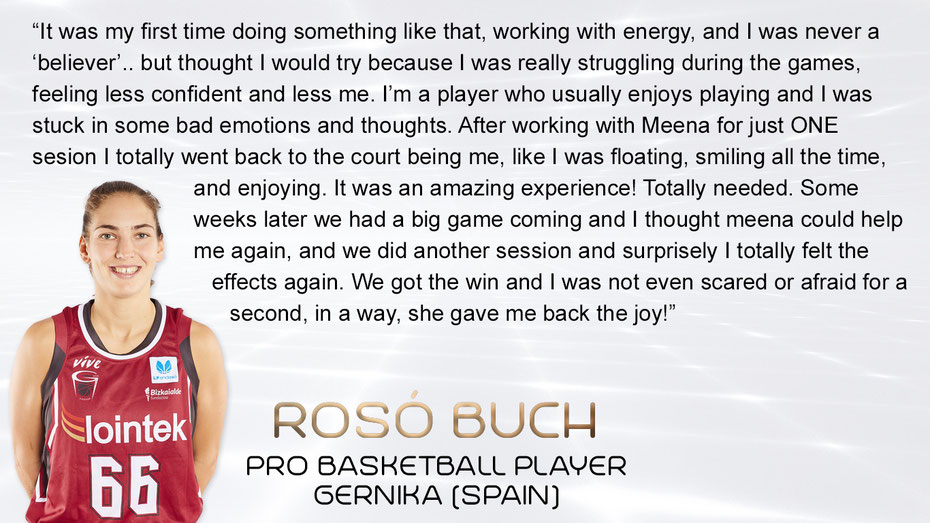 ---
Arianna Criscione
Professional Soccer Goalkeeper
LIgue 1 - (PSG) Paris Saint-Germain
---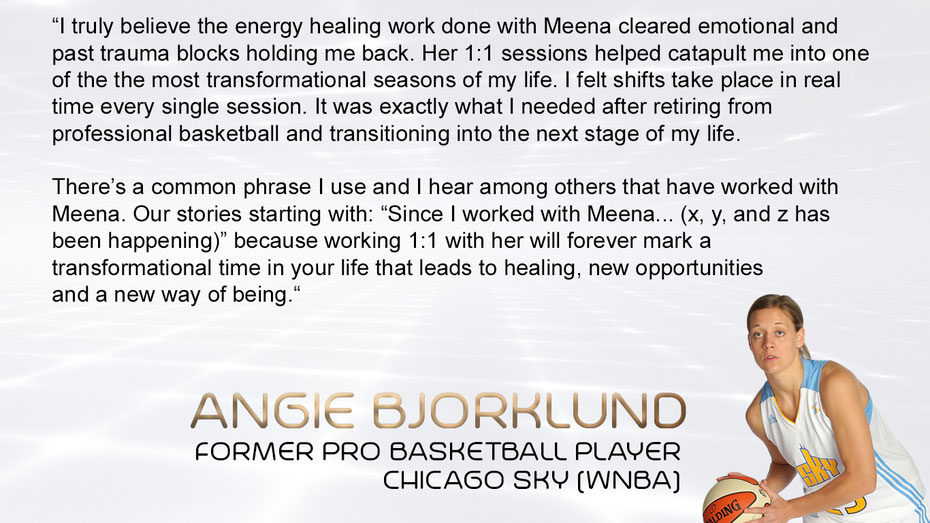 ---
Cassie Breen
Professional Basketball Player (London Lions, UK).
---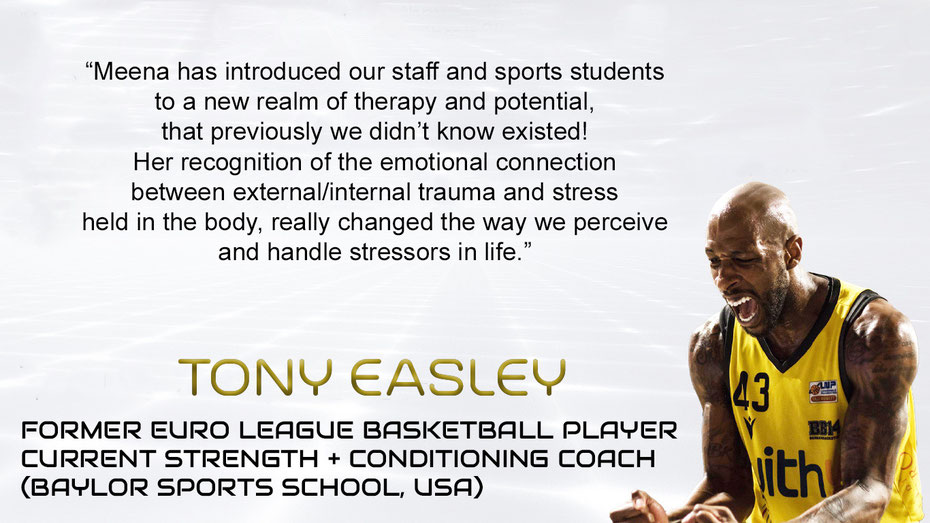 ---
Jan Van Loon
FootballCoach 
FC Utrecht, FC Arsenal, VFL Wolfsburg, FC Bangaluru
---
Christy Swaggerty
Professional Volleyball Player & Coach
2. Bundesliga
---
Drake Reed
Professional Basketball Player
Saint-Quentin Basket-Ball (LNB Pro B, France)
---
Chris Heid
Ex-Professional Ice Hockey Player (NHL, AHL, DEL)
Head Coach DEGGENDORF SC (Germany)
---
Lucky Dozier
Professional American Football Player
Team USA, Munich Rangers, Munich Cowboys
---
Karl Wolf
Professional Rugby Player
Munich Rugby Football Club
---
Meena began working at St John and Elizabeths Hospital in November 2008 and finished her paid employment with us in July 2012. During this time Meena worked as an Energy therapist within a multidisciplinary team treating patients in both the Day Hospice and Inpatient Unit.
The patient's conditions included Cancer, Parkinson's, MS, MND, HIV, Heart Failure & Renal Failure. During this time Meena was able to develop and maintain professional relationships with both patients and staff. Meena showed great empathy & sensitivity towards patients during very difficult times in their lives.
We found Meena to be very reliable, confidential and able to maintain boundaries when carrying out her treatments. It was a real pleasure to get to know Meena and have her working as part of the Hospice team. I would have no hesitation in supporting her in any future endeavours.
Peter Hume
Day Services Coordinator
St. John's Hospice (London, UK) 
---
Meena worked at St Joseph's Hospice Hackney between 2009 and 2011 offering energy sessions to patients, staff, carers and family members. 
We were very fortunate to have Meena on the complementary therapies (CT) team at the very beginning of setting up the service. Her professional and compassionate person centred approach to care was a real asset to the team.
Without the dedication, care and commitment of therapists like Meena we simply would not be able to deliver this service.
Simon Robey
MBAcC MRCHM, Clinical Ac.
Complementary Therapies Care coordinator
St Joseph's Hospice Hackney (London, UK)
---
---
Recently I joined an 'Introduction To Energy Therapy' session with Meena and it was a real revelation, to anything I had participated in before.
The session gave background knowledge about Meena and her experiences which allowed you to have a deep trust in the methods she was sharing in the session. I was skeptical about being part of a group session but actually, it was a great experience to share this with others and discuss the intense connection we had all felt during the session. After the session, I felt a real calm and I honestly had the best night sleep I had experienced in months.
The rebalancing and coping strategies Meena can deliver will truly help people in all walks of life. The session I participated in was a great idea for a business that wants further protect the welfare of their staff and is something I would consider for my team in the future.
I would highly recommend these sessions whether it be a group or individual sessions, especially in these moments where mental health and learning to cope with what life has to throw at us has never been more important. Finally, what makes these sessions is Meena herself, she is a fantastic person, easy to work with, and her great knowledge, experience, and passion for what she does really shines through.
Louise Bawden - Senior Video Journalist @Stats Perform 
Group Energy Therapy Participant - womeninfootball.co.uk
---
"Thanks for hosting a call for us Meena! Your session was inspiring and very useful for our athletes. Would definitely recommend for any athletes suffering from injuries or looking to take their performance to the next level!"
Charlotte Harris - Professional Volleyball Agent
Group Energy Therapy Session Participant - https://athletesabroad.se
---
Meena is easily one of the most selfless, charismatic, kind, and caring people I have had the pleasure of working with. The first time I met Meena, I saw that she genuinely cared about helping others - whether that was through her professional work as an Energy Therapist or helping a complete stranger. She brings a warm and open presence that allows her to establish meaningful connections and is a wonderful compliment to her magical work in sessions as an Energy Therapist. My session with Meena put me in a very calm and relaxed state and allowed emotions to release from my body that had been hiding away for years. I cannot recommend Meena enough to athletes and professionals alike.
Taylor Cook
Professional Ice Hockey Goalie and Mindset Coach
---
"Energy healing techniques  were born out of ancient wisdom cultures. Millions of people have experienced healing and positive transformation through these practices. Meena as a trained Energy Master and founder of First Harmony has chosen to help athletes better their medical conditions and perform at peak levels. While the physical workings of these techniques were not understood for a long time, science is catching up fast. In lab tests it is already possible today to measure the positive impact of energy therapies on the electro-magnetic field of the body, the favourable hormone regulation and the positive gene activation via state of the art technology. With the fast advancement of technology in measuring and imaging technology it will only be a matter of a few years until these practices becomes demystified and enter the mainstream stage of therapy. Because physical changes can then be measured and displayed on a broad scale next to the subjective experience of healing and increased wellbeing, treatment such as offered by First Harmony will become even more relevant and appealing in the field of sports medicine and performance enhancement. "
Robert Gierke 
Ex - adidas Director Global Brands
Advisory Board Member - Hype Sports Foundation
---
I will be the first to admit, I was exceedingly skeptical going into the session at WiF (Women in Football) but Meena is an incredible guide and has introduced me to an entirely different way to dig deeper and focus. I can't wait to share this with my players and help them refocus their energy as well. Thank you, Meena!!
Karen Wolf - Head Coach Century Steel Soccer (USA)
Group Energy Therapy Session Participant - womeninsoccer.org
---
"After my first 2 treatments, I felt a sense of inner clarity. My mind became relaxed and quiet. I am able to handle stressful game situations better, by being able to keep focus in a whole new way.
I came to Meena, to help me with my sports career, but it gave me so much more. It has made me able to be appreciate the present moment.
I get in touch with Meena before games when getting my mind ready for the game. How an athlete prepares for a game is individual, but mindfulness training has cleared up my thought process and shon a light on an aspect, that I see now I have been neglecting. I now have a new tool that I can work with to become a better athlete."
Name withheld for privacy
Professional Place Kicker
NFL League, American Football
---
"The actual treatment was very relaxing and I could feel different sensations within my body which were unusual but also relaxing. Afterwards I felt surprised  and refreshed by the experience. My muscles were quite sore but in a good way - like after a workout. That evening I had a try out for a new team. I should have had pain in my shoulder, because the shoulder was painful the previous day. I didn't have any problems with it that evening though! Even after practice! No pain at all which was weird but awesome"
Vincent Thellmann
Semi Professional Basketball Player & Youth Coach
---
"About half a year ago I pulled an Achilles tendon tear during a basketball game, after which the necessary surgery had to be carried out the very next day. My Achilles tendon was severely shortened and my affected calf muscles deteriorated due to the lack of usage after the operation.
Meena helped me to focus my energy on the essential parts of my body. Of course, the affected Achilles tendon played an important role, but also the mind to strengthen the positive mental attitude. Right at the first session, as well as with all others, I felt an extreme relaxation that made me forget my environment. The energy flowed soothingly and noticeably through my body. Over the following days I was able to feel a distinct and soothing tingling sensation in my arms, especially in my legs, while I was listening to my body for a while before getting up.
So far, "normal" walking has been an extreme mental effort for me. After the initial sessions for the first time I had the feeling that I could walk smoothly over longer distances without much mental effort. A colleague also confirmed to me that he could not recognise any limping, as it was the case in the past few weeks, which also motivated me. It showed me that Meena has been able to strengthen my mind, make me believe in my own self-healing, and channelled the energy to the right and important places in the body."
Thomas B.
Basketball Player
---
"I received treatments from Meena on a few occasions and found the sessions profoundly relaxing.
Meena worked on my right Achilles tendon which I ruptured while playing tennis. I was in recovery for 7 weeks and found her sessions to be a wonderful way to energetically reach the damaged area.
After breathing deeply and relaxing I felt a tremendous sensation of warmth spreading through the ankle followed by some tingling, a little like soft pins and needles. I feel sure this has helped the knitting together of the damaged tendon and supported the healing process."
Simon Robey
---
"Being a curious person with an affinity to learning about homeopathic methods and such, avoiding using chemicals to cure illnesses, I met Meena and our conversation led to the topic of Energy Therapies. Of course I had to experience it myself and now finally have.
The setting was very nice and comfortable with relaxing music in the background, but most important of all is Meena, who has such a positive and calm energy which made it very easy - I was able to relax and open up to this new experience. It felt as if on a subtle level energies were flowing through me or being activated and for me it was a pleasant experience. Afterwards I felt energized but at the same time somehow calmed down. My nervousness was gone, and this has held on for many weeks now. I am looking forward to learning much more now that I have experienced it ! I could actually say even more as there are quite a few effects I am noticing, but I don't want to start writing a book yet. :)
I highly reccomend you to see what Meena can do for you."
Wolfgang W.
---
"I had just come back from a 2 month business trip and was feeling disconnected, stressed and exhausted both professionally and on a personal level. I had a lot of different things going around in my head and was unsure what to focus on. It was great to see that the session quickly showed me its not necessary to prepare and within 30 mins I felt a lot more relaxed. More specifically, I found it easier to focus on priorities and take a step back. Meena has a natural way to empathize regardless of the issues I was facing and I was pleased that we could go at an even pace. Straight after the therapy, I felt immediately re-energised and much less overwhelmed. It is a great way to take stock, refocus energy, feel more motivated and productive both in a busy workplace and on the goals I have in my personal life."
Christina Richardson
---
"I went to Meena with the hope of her helping me with my anxiety which I have suffered from as a very young child. As soon as I arrived, she instantly put me at ease and I felt completely comfortable with her. 
We had a chat first of all about my specific problems and then she began the treatment. 
In the following days after the session I noticed I didn't suffer from as much anxious feelings or breathing problems (which was my biggest issue). Since then it's happened a few times but nothing in comparison to what I had before. I can't say for sure whether this is going to last long term but for now I can rest assured that's it's not going to affect my daily life week in week out! Thank you Meena!"
Perri Sykes
---
"After my first few sessions with Meena, I experienced a surge of positive energy and since then much improvement and development in my mental, physical and emotional well-being. The sessions have helped me both during and since a serious illness. Meena is warm, approachable and highly professional.
It has been a exceptionally beneficial and I delighted to recommend her practice."
Patricia Howard
---
"Meena came into my life in January 2011 and we had this wonderful connection straight away. Her amazing energy, empathetic nature and helped me so much when I was grieving and has guided me to find direction and life changing purpose"
Carrie Lambert
---
"I am a mom of three kids, the youngest  is only 6 months old. When I first met Meena, it probably wasn't hard for her to see that lack of sleep and rest had taken its toll on me. She suggested I come to her for sessions. 
I was skeptical and curious at the same time. I don't know what exactly she did with me that evening but the one hour session was extremly relaxing. I can only compare it to a deep Level of totally effortless meditation. At the same time it felt like I could physically feel "energy" that she seemed to be able to control and move around. I have no comparison with other practioners as this was the first time I tried it. But if you are looking for somebody who will immediately make you feel comfortable and who clearly has a lot of skill and experience, I highly recommend you contact Meena."
Nora A.
---
"Meena has helped me overcome a difficult battle with post-natal depression. I found her treatments to be very powerful, yet very gentle and nurturing. Meena has a deep understanding of human nature which I found very insightful and reassuring. After several treatments I began to fully enjoy my life and enjoy my family. Truly a life changing experience!"
Name withheld for privacy
---
"Das letzte Jahr war ein Jahr voller "Prüfungen", und wie es so ist, blieb es es nicht bei einer Heimsuchung:Ich kümmerte mich um meine Mutter, die eine schwere Lungenentzündung , mit ungewissem Ausgang hatte.
Durch eine Naturkatastrophe wurde unser Haus zerstört und weil das noch nicht reichte habe ich mir dann einen noch Wirbel gebrochen. Ich war seelisch und körperlich am Ende.
Meena war meine Retterin in der Not! Durch ihre sanfte Art und ihrem liebevollem Wesen bekam ich viel von meiner verloren gegangenen Energie zurück. Ganz zu Schweigen von der wunderbaren Unterstützung, bei der Heilung meines Rückens. 
Schon bei der ersten Sitzung spürte ich wie der Schmerz sich linderte. Die Verspannungen schmolzen dahin. Von da an ging es bergauf: Meine Selbstheilungskräfte wurden reaktiviert und ich positiv motiviert, um zuversichtlich auch noch die letzten Hürden zu meistern. 
Wie bereits erwähnt, empfand auch ich Reiki wie eine tiefe Meditation, die einen das "Hier und Jetzt" entspannt vergessen lässt, so daß man danach gestärkt in den Alltag  zurückkehren kann.
Reinem Herzens kann ich Meena nur empfehlen…auch den Skeptikern. 
In tiefer Dankbarkeit"
Name withheld for privacy
---
"I found Meena to be very professional, gentle and very understanding.
She made me feel very at ease from the minute I walked into her room.
We as a couple have fertility issues and Meena is using Energy to try and help with this.
I had a lovely warm feeling whilst she worked and afterwards I felt very relaxed and somehow stronger in myself and also a feeling of gentle movement within my body.
I found the whole experience uplifting and very moving.
I will definitely be having more sessions.
Thank you Meena"
Name withheld for privacy
---